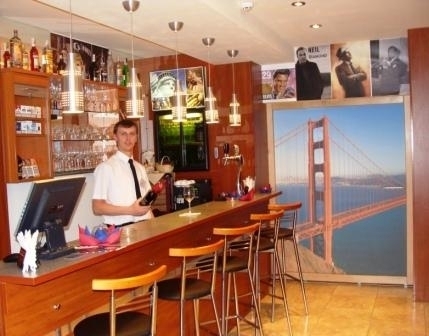 You had a hard day or just like to drink a coffee, than you should know our bars are open 24 hours. Come any time and you will have a cold beer, alcohol drinks, cocktails, tea, coffee or cigarettes.
You may choose between the modern American Bar, accommodated for 12 persons for smoking, drinking or watching the matches from the video wall with the glass of the cold drink.
Our barmen will gladly provide for you any drink and enjoy you with good service and wide variety of the whisky, brandy, cognac, vodka or exquisite wine collection.
If you are the persistent smoker, look for our cigars choice, from such temptation can't refuse any guy.
We offer you a choice from 3 different terrace places:
During the warm period you can easily sit outside on our beer terrace, under the trees in the enjoyable coolness, here are all possibilities for pleasant time spending. If you like to have some grilled dishes than you may view the preparing process from your meat, fish or vegetables on our grill.
Here you may come with your small kids, nice kids place, toys, balls and books are already waiting on them.
Also you may take your place on the round terrace, build in the form of the round, good for smoking or organizing buffet tables for the stand-up parties.